The Garrettsville Area Chamber will be meeting on Wednesday, October 5 at 7:30 am. The meeting will be held at the JAG Football Stadium's new concession stand. Please park across the street in the church parking lot. We look forward to seeing you!

NGCC October Distribution will be Monday, October 3rd 3-5:30PM and Wednesday, October 12th 9-11:30AM. If you are not registered for home delivery but would like to be added to the delivery route, please call 330-527-2011.

NGCC to hold Mystery Dinner Fundraiser on Oct 22 Join the amazing actors of Garrettsville's Curtains Up Theatre as they set the stage for murder. Detectives will assemble at the JAG HS Auditorium for a briefing, enjoy some appetizers and then be sent to several classrooms throughout the high school to gather the necessary clues to solve a crime. After gathering clues and info, attendees will then head to the elementary school for the final act, dinner, and the crime's solution. Dinner will be choice of spaghetti or chicken / broccoli alfredo, salad, rolls, dessert and beverage. Chinese auction baskets and a 50/50 raffle will also be held. This is the Nelson Garrettsville Community Cupboard's primary fundraiser which provides funds for food purchases through the heavy winter season. Enjoy a night out for a good cause! Tickets available at the Villager on Main Street, The YMCA or online at ngcc portage.org/tickets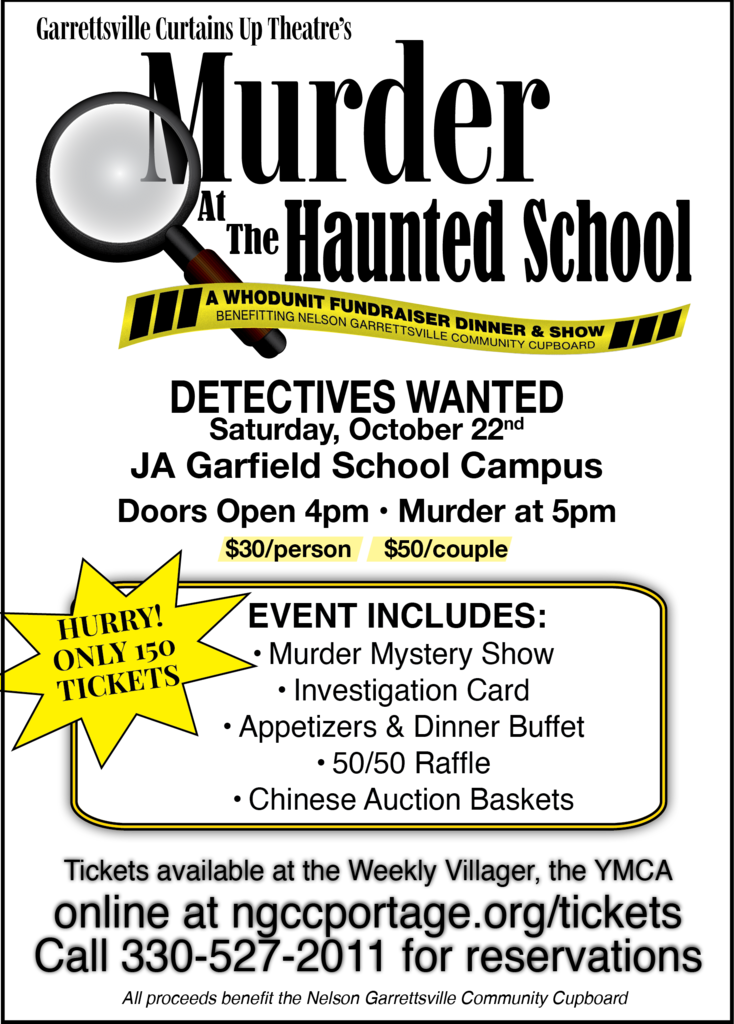 Join the J.A. Garfield & Crestwood Volleyball teams as they Volley For The Cure on October 13th at Garfield High School. Proceeds from this shirt sale go to the Susan G. Komen Foundation and when you wear your shirt to the game you will get in FREE courtesy of the JAG All Sports Boosters. Orders must be received by Sept 30 to ensure delivery in time for the game Order at
www.villagerprinting.com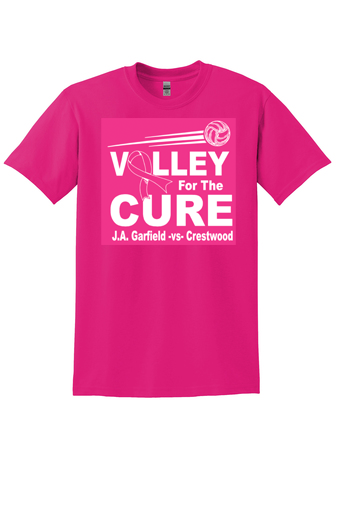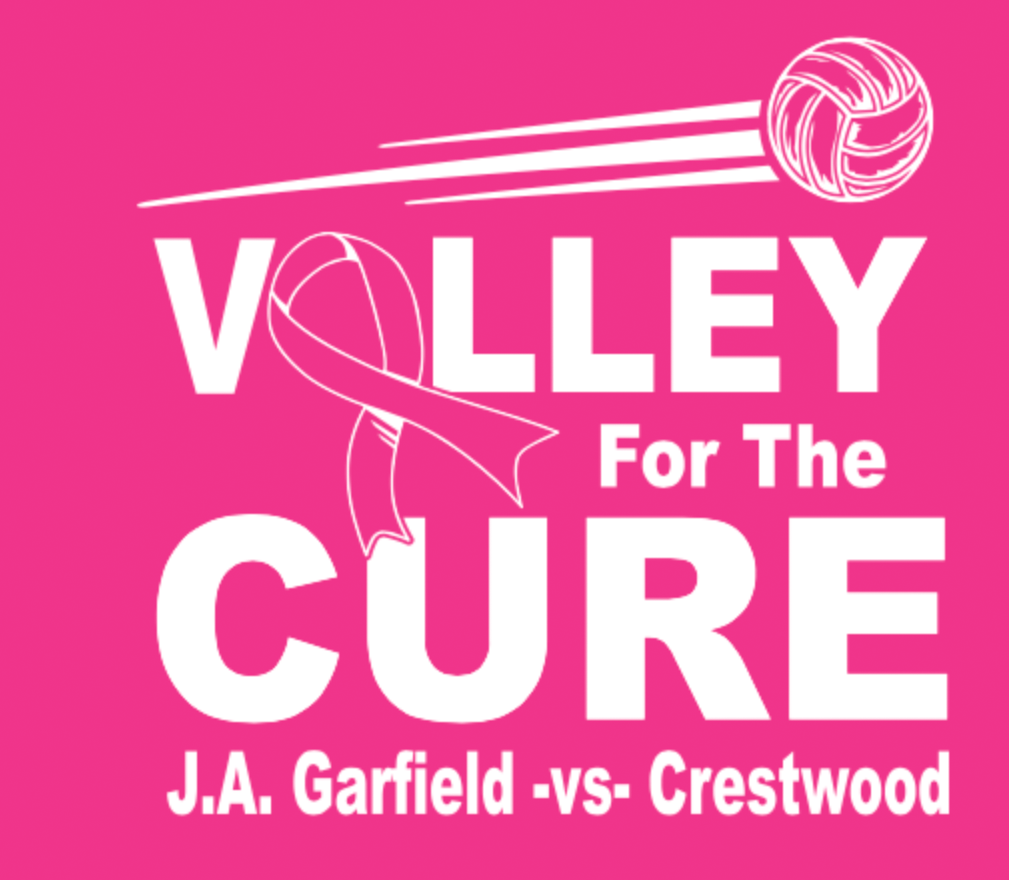 September Distribution will be Monday, September 12th from 3-5:30PM and Wednesday, September 14th from 9-11:30AM. Note special Monday pickup due to Labor Day. To register for home delivery, call 330-527-2011.

September Chamber Meeting will be held Wednesday, September 7 at 7:30AM at The Garrettsville Eagles Club
Exciting news to be announced at Garrettsville Chamber Meeting on Wednesday, August 3 • 7:30 am at the YMCA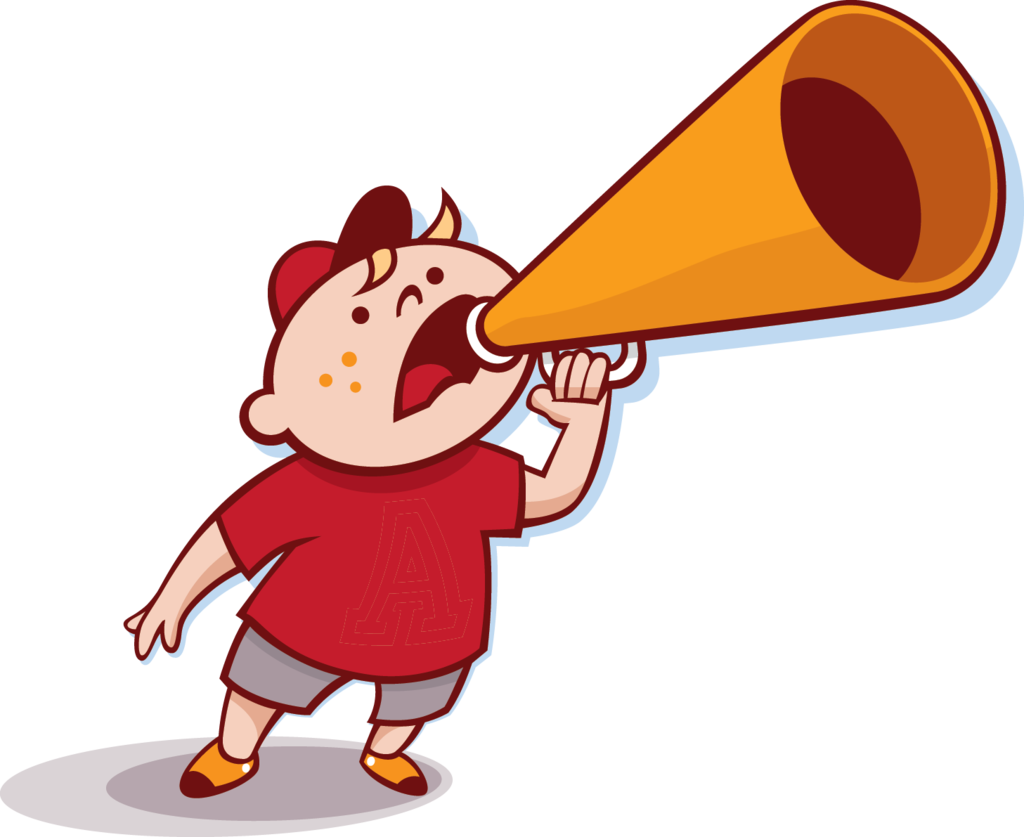 Friends of the Garrettsville Library Book Sale The Friends of the Garrettsville Library will be holding a book sale in the library meeting room and main floor on the following dates: Wednesday, August 10 from 10:30 am – 12 pm for members of the Friends, and 12-5 pm open to the public; Friday, August 12 from 10:30-5; Saturday, August 13 from 9:30 am – 2 pm. Dollar Deals will be offered from 12-2 pm on Saturday – Fill a bag for $1, bring your own bag, any size. Membership in the Friends is just $5 per year and may be purchased at the door or in advance at the library. Contact us at
libfriends@hotmail.com
to request information. The Portage County District Library Garrettsville Branch is located at 10482 South Street.

The August Chamber of Commerce meeting will be held on Wednesday, August 3rd at 7:30 am at the YMCA in the party room. Please plan to attend - guests are welcome!

Garrettsville YMCA Youth Soccer signups are open for 2 more weeks. Ages 3-12 Call Branch for more info!

It's cruise night in Garrettsville tonight. Take a walk down Main Street from 5-8pm and enjoy classic cars, raffles and great music!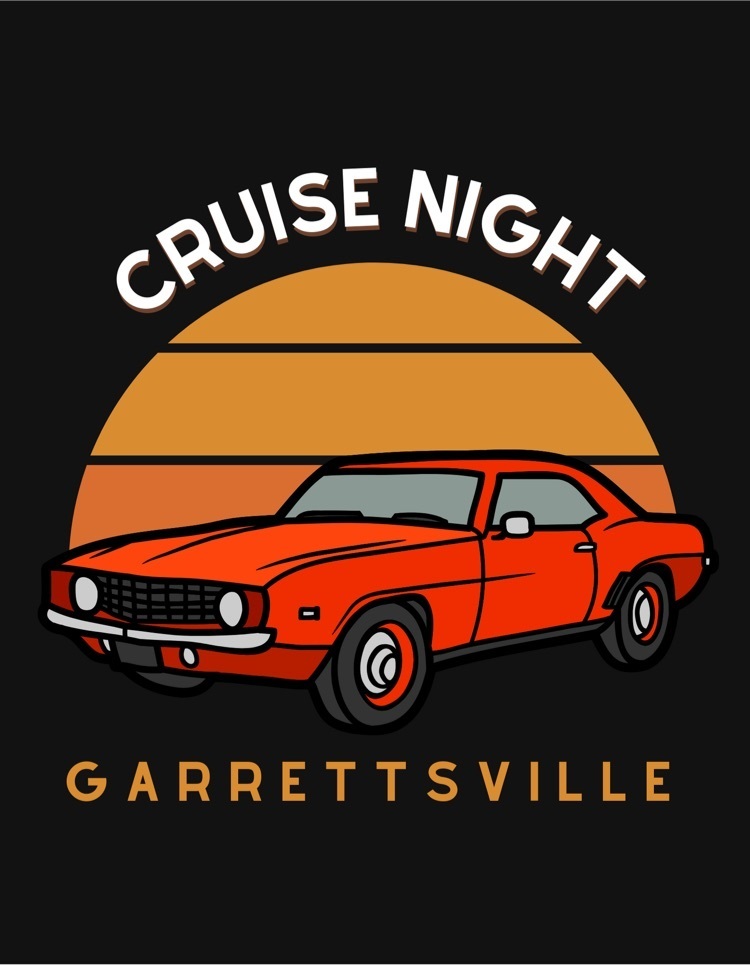 Ohio Turnpike Invites Travelers and Residents to Attend Customer Appreciation Event at Portage Service Plaza on July 15 Ohio Turnpike, Highway Patrol and Portage County Safe Communities to promote motorist safety. BGSU Firelands to raise awareness about human trafficking. The Ohio Turnpike will be hosting a customer appreciation event at Portage Service Plaza in Mantua, Ohio, from 10:30 a.m. to 2 p.m. on Friday, July 15. The service plaza is located at milepost 197 westbound on the Ohio Turnpike in Portage County. Staff from the Ohio Turnpike and the Ohio State Highway Patrol (OSHP) will remind travelers to drive safely during the 100 deadliest days of summer (Memorial Day to Labor Day) and provide promotional safety items. As part of the OSHP's ongoing efforts to make Ohio's roadways safer, troopers will continue to focus on impaired driving enforcement. Portage County Safe Communities, whose goal is to reduce preventable crashes caused by distracted and impaired driving as well as increase seat belt usage and raise awareness of motorcycle safety, will set up an interactive prize wheel to inform attendees about traffic safety. Faculty from Bowling Green State University Firelands will also participate in the event by raising awareness about human trafficking, and the victims transported on the state's highway system. The turnpike's service plaza partner, AVI Foodsystems, will provide $1 hot dogs and other items for lunch. Kona Ice will provide flavored ice cones, courtesy of the Ohio Turnpike. Inside the service plaza, guests can spin an electronic wheel to win prizes from the Ohio Turnpike, including $25 Sunoco gas cards. The OSHP will display a patrol car and meet with guests. Outside the service plaza, the Cleveland Police Historical Society and Museum, in partnership with the OSHP Retirees' Association, will display four cruisers from its vintage fleet. Tony McGinty from the "Keith & Tony" morning show on 98.1 WKDD in Akron will give away radio station merchandise and event tickets during a remote broadcast at the service plaza.

The NGCC is in need of hamburger/tuna helper, cereal, boxed potatoes, and hot chocolate. Donations of food are accepted at the YMCA during their operating hours.

The GHS National Honor Society will be holding a car wash fundraiser at Charles Auto this Saturday. Stop by between 10:00am and 2:00pm. Your donations to the program will be appreciated!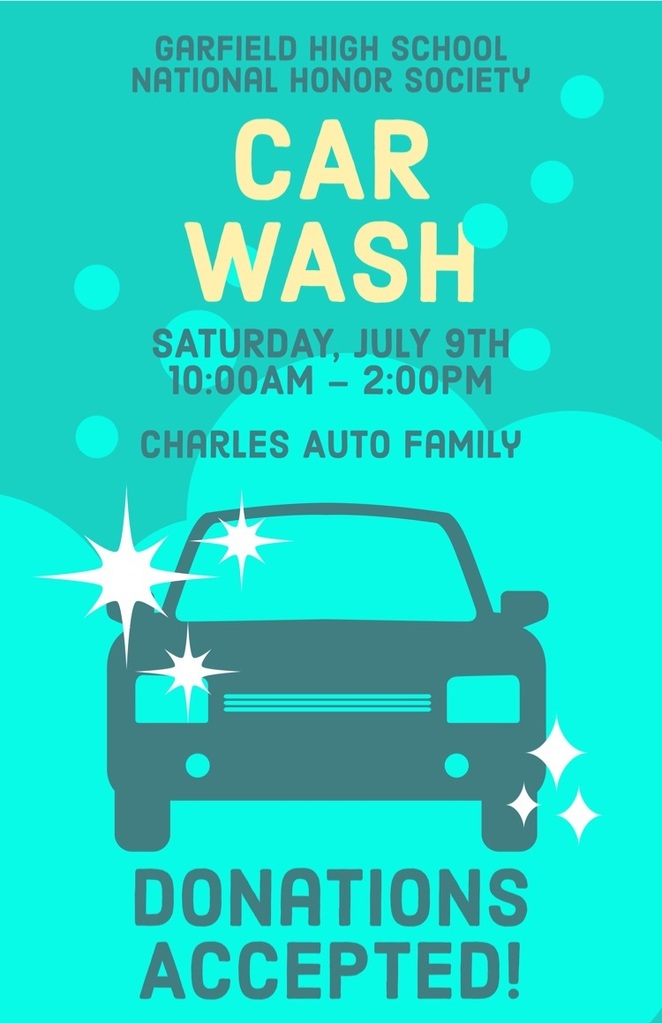 NGCC July distribution dates are as follows: Monday July 11 from 3 to 5:30 pm and Wednesday July 20 from 9 to 11:30 am. Home distribution will be Tuesday July 12 and Wednesday July 13 in the afternoon. If you are already on the home delivery list you need not do anything. If you would like to sign up for home delivery call 330-527-2011

PORTAGE COUNTY LAUNCHES RESIDENTIAL BROADBAND SURVEY The Portage County Board of Commissioners and the Portage County Office of Homeland Security and Emergency Management are seeking community input to identify current limitations, or unserved/underserved locations in broadband internet availability to residential areas. The Residential Broadband Survey will be available to complete electronically on the Portage County Website at
https://bit.ly/3tQ6INV
, until July 27, 2022 and can be electronically submitted to
pcema@portageco.com
. Paper copies will be provided to local libraries and participating municipal and township buildings in each Portage County jurisdiction. Residents may also request a paper copy at the Portage County Office of Homeland Security and Emergency Management located in the rear of the Portage County Justice Building at 8240 Infirmary Rd., Ravenna, OH, 44266. For paper-based surveys, they may be scanned in and emailed to
pcema@portageco.com
, hand-delivered or folded and mailed to the Portage County Office of Homeland Security and Emergency Management, 8240 Infirmary Rd., Ravenna, Ohio 44266. No personal identifiable information is collected as a part of this survey. For additional information, residents can contact the Portage County Office of Homeland Security and Emergency Management via phone at (330) 297-3607.
Last year's Business Showcase on Main Street proved to be a success so we are doing it again this year! Join us on Thursday, July 14 (rain date July 21) on Main Street to showcase your business and meet new customers! This will be an outdoor event, and is scheduled to coincide with the Farmers' Market to increase visibility. The Business Showcase helps to support the Chamber Scholarship program -- you can choose to provide a raffle basket valued at $50 or more or pay the $75 registration fee. Baskets will be kept at your table ensuring attendees will make the rounds to each table. Please complete the showcase form and return to Michelle @ the Villager no later than July 7th. We are looking forward to seeing you!!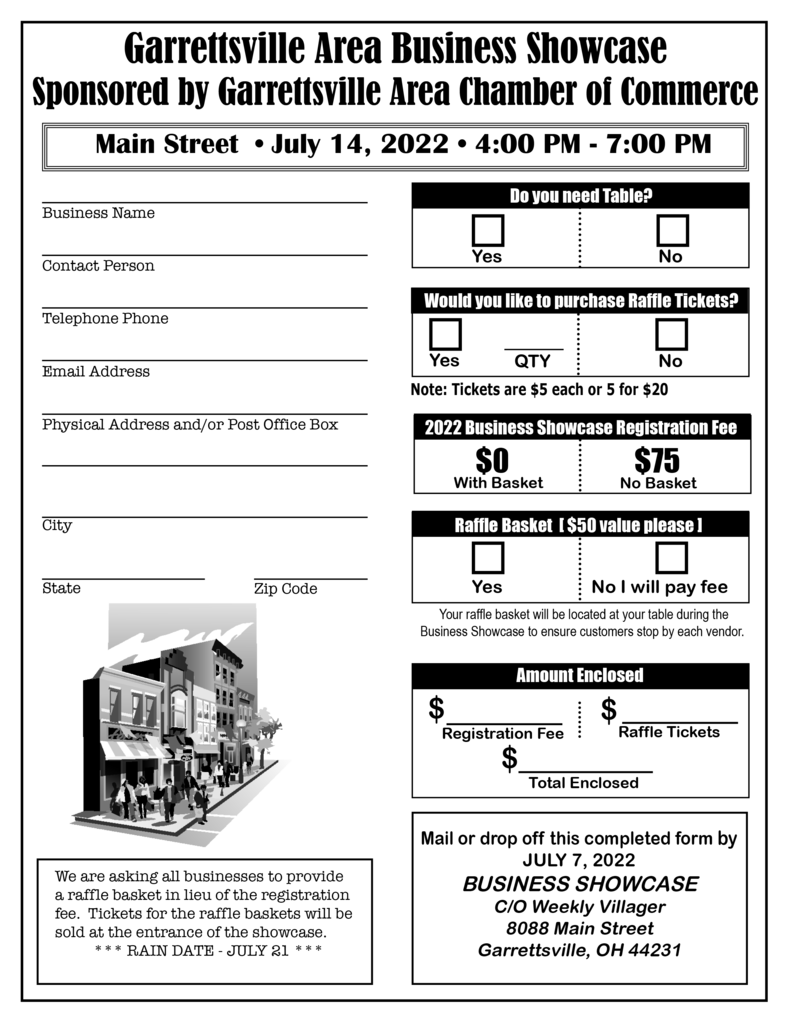 Register today for the JAG 5K Race & 1 Mile Walk/Run. The event will be held on Saturday, June 25th at 9 a.m. All proceeds benefit the Garfield Cross Country Team. Register by June 17th to get your t-shirt. Visit
www.gopherarun.com
to register today!!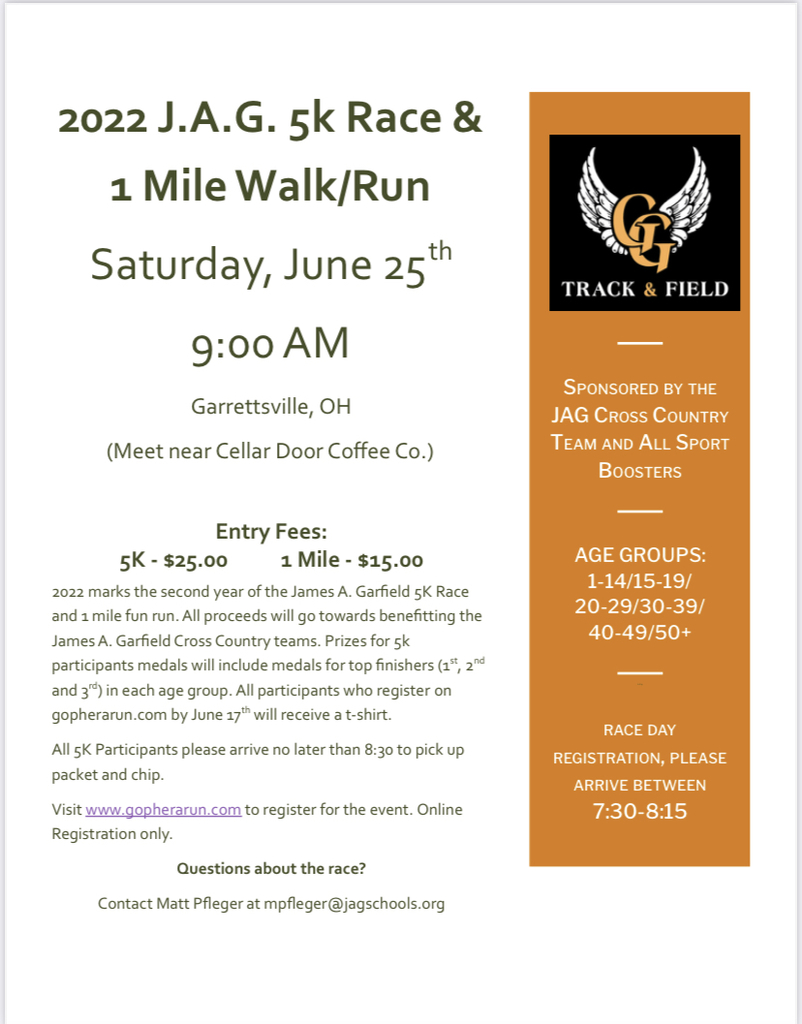 YMCA Rummage Sale will be held Friday June 3rd & Saturday June 4th from 8 am - 4 pm. The Y is located at 8233 Park Avenue in Garrettsville. Thousand's of items available!!! Proceeds from this sale support the Y's community campaign which provides assistance for those in need!