The October Chamber of Commerce meeting has been canceled. We will meet the first Wednesday of November. Have a safe and happy October!
A Haunted Schoolhouse??? For years it has been rumored that the James A Garfield schools are haunted and that after 4 pm the schools come alive. The event committee for the Nelson Garrettsville Community Cupboard didn't believe the rumor -- in fact they scoffed at the idea. That was until...the sound of jack-in-the-boxes, children's music, ghostly football players and apparitions began to appear as the NGCC team was preparing for their fundraiser. Could it be the ghost will select someone new to join in the hauntings or can the team save one another before the next deadly deed occurs? Join the cast of Garrettsville Curtains up Theatre for a night of murder, mystery, and sleuthing. Assemble a team for a fun evening at our "whodunit" dinner and show. The doors of the High School Event Entrance will open at 4pm on October 9th for check-in and appetizers. Then you'll have a chance to solve an expertly crafted murder mystery as you make your way throughout the Garfield campus. After gathering your clues, the mystery will come to a close as you enjoy a delicious buffet-style dinner at the elementary school. In addition, a 50/50 raffle and Chinese auction will be held. Tickets for this event are limited to 150 -- pricing is $30/person or $50/couple, and can be purchased at ngccportage.org/tickets, Weekly Villager, Garrettsville Family YMCA, or by calling 330-527-2011. Groups of 4 or more, please call for group rates. Please join us on October 9th and see if the NGCC can pull off their event can finish without a body being found.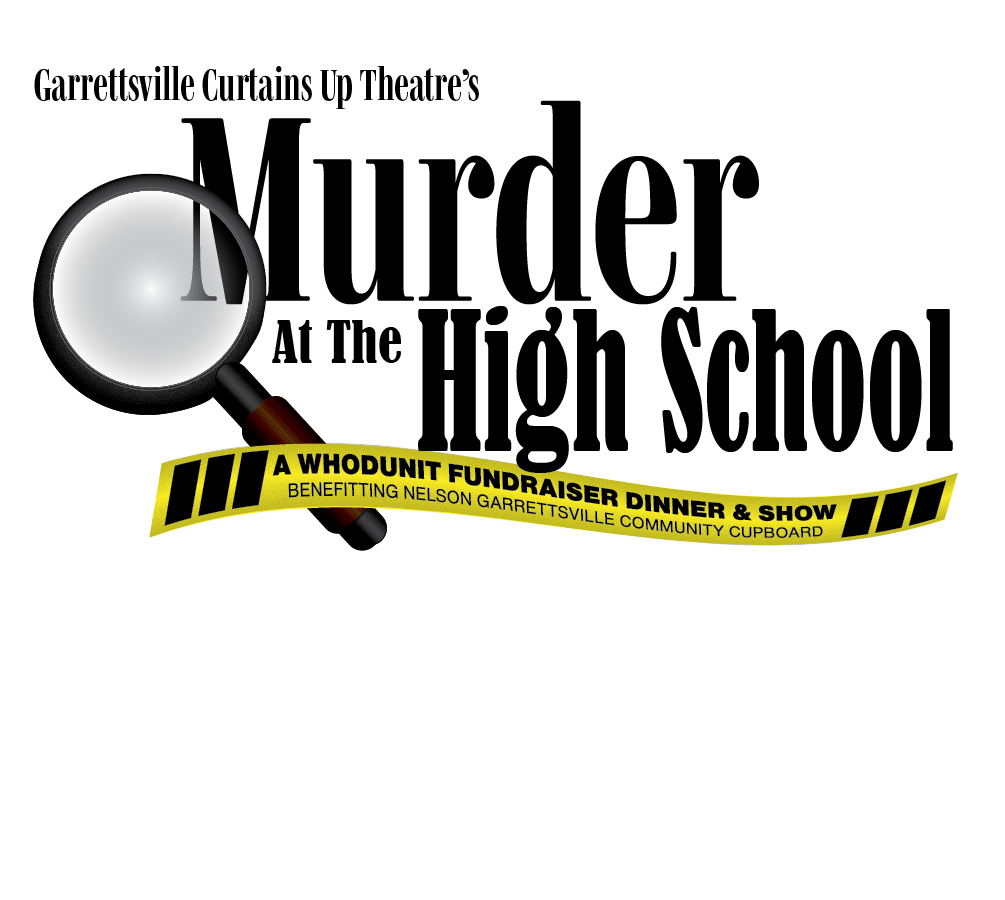 NGCC is in need of the following items for our clients: Toilet paper Rice sides Noodle sides Potato sides Hamburger helper Tuna helper Dish soap Pancake syrup Kidney beans Pork n beans Tomato soup Donations can be made at the Garrettsville Family YMCA.

Chamber Meeting Reminder: Our next meeting is Wednesday, September 1st at Hermann Pickle Farms. The meeting begins at 7:30am.

Cruise into historic Garrettsville this Saturday for locally-grown peaches and classic cars. GFN Fire Department is hosting the annual peach social from 5-8 tomorrow night!

Kick off a weekend of family fun at Garrettsville Summerfest. Tonight's entertainment lineup includes Billy Morris & The Sunset Strip, and performances by the Garrettsville Idol All-Stars.

Main Street is closed for repaving this morning, however you can access parking and walk to businesses that are still open. For businesses on the south side of the street, use the boardwalk parking lot. For businesses on the north side of the street, use the Maple Avenue parking lot.
Outdoor Movie on Buckeye Block Sat July 31st, 6pm Christmas in July feat. The Grinch on the big screen. Pics w/Hawaiian Santa, contests , snacks sold by the P.T.O. & more! We're giving away a 2 night stay to Kalahari. Winner announced Sat. Enter at sellvp.com/movienight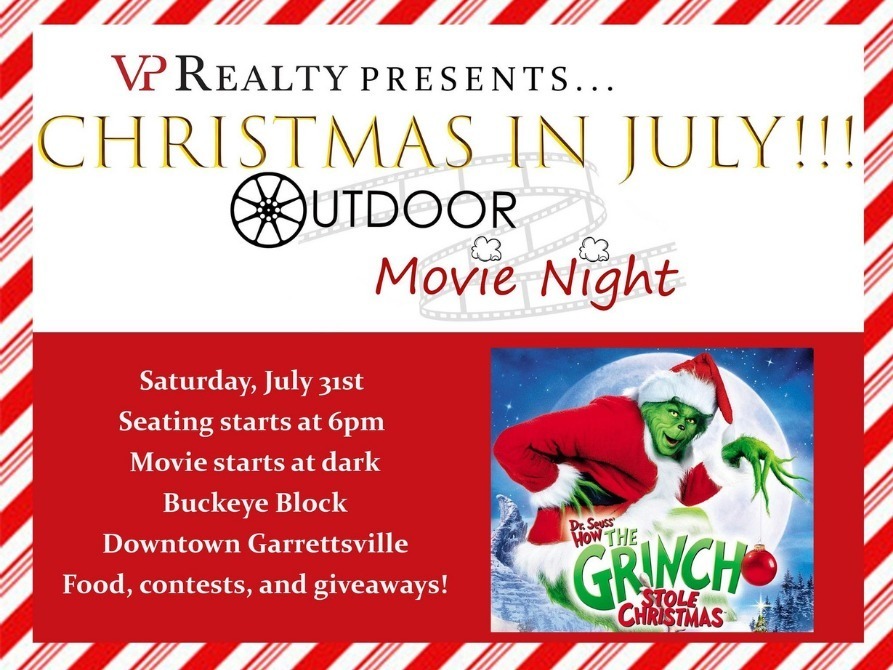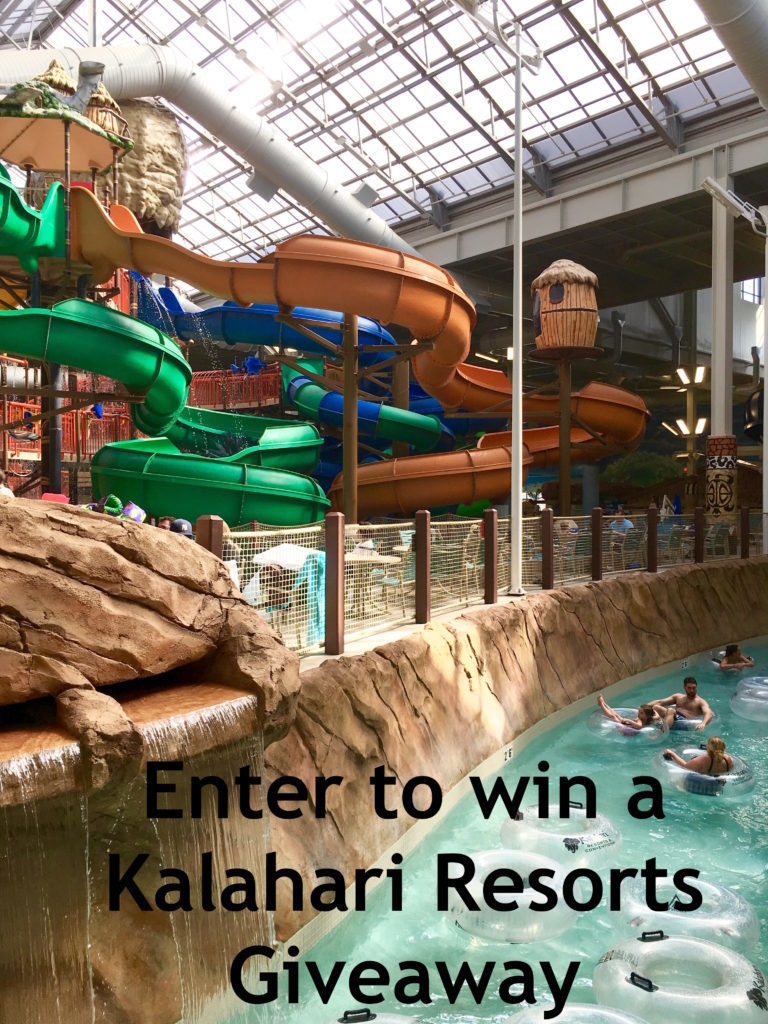 Join the Chamber at the Business Showcase on the Buckeye Block tonight for raffles, and more!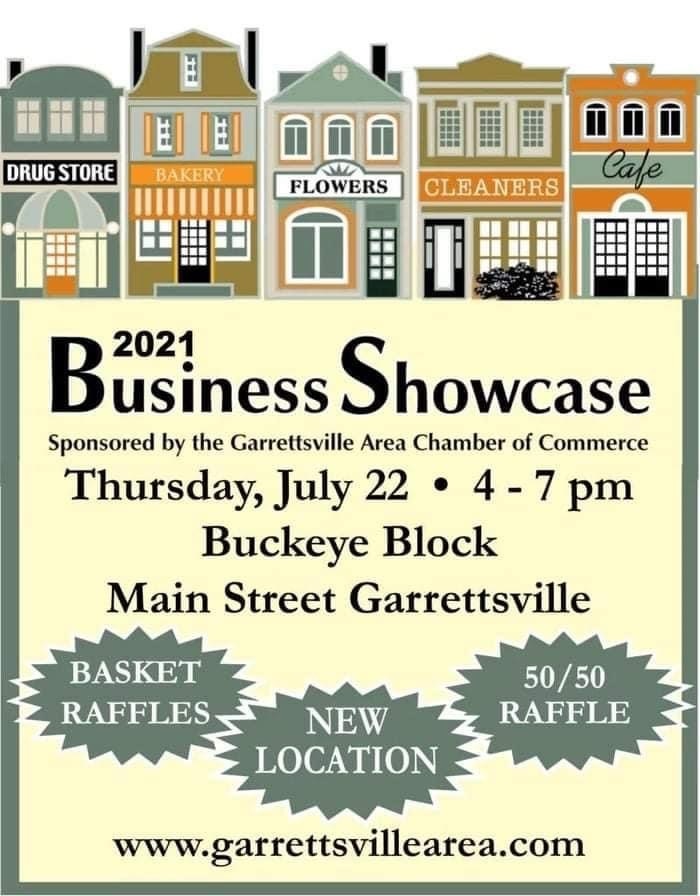 Join us Thursday July 22 from 4-7 pm on the Buckeye Block for the Business Showcase.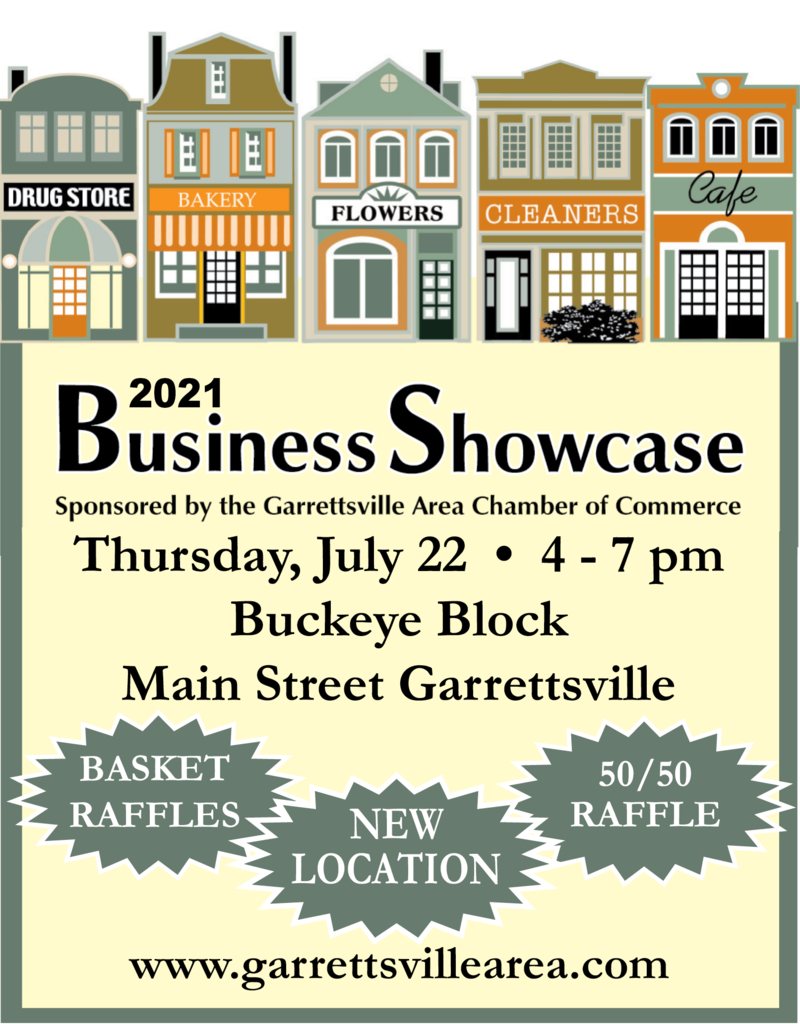 Stop out to Sky Plaza tonight for the Chamber car cruise from 5 to 8 PM.

Tonight's Car Cruise has been postponed. Our rain date is tomorrow (Sunday) at 5pm.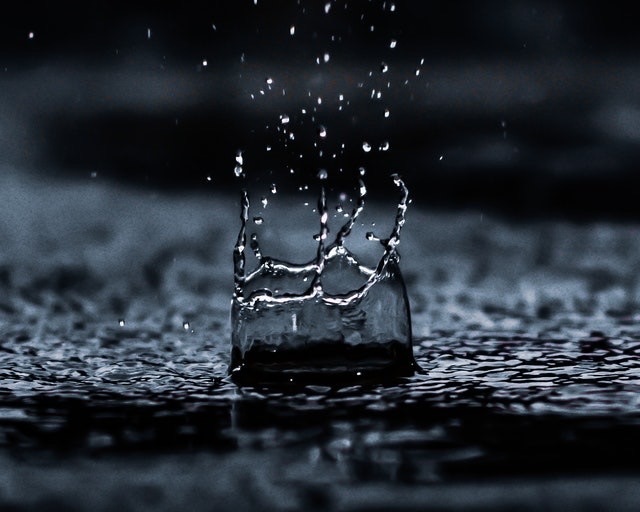 The Village of Garrettsville will hold a Summer CLEAN-UP on Thursday, July 8th, 2021. No batteries, tires, hazardous materials, construction debris, yard waste or partially filled paint cans are permitted.

Save 4 is looking hire somebody for afternoons till close at 9pm and can work weekends. Must be 18 or older and able to start immediately! Call 330-527-7000.

Attention Chamber members - you can now submit upcoming events for inclusion on the Chamber's digital sign at in intersection of SR 88 & 82.
https://forms.gle/jr6XHb7rv3rMZLRC6

The Discover Garrettsville promotion has begun. Receive a chance at one of thousands of instant-win prizes when you shop or dine at participating Garrettsville businesses.

Reminder: The Chamber Scholarship breakfast is tomorrow at 7:30am. Join us at SkyLanes for breakfast, and to celebrate our two scholarship recipients Chad Wright Jr, and Grace Edwards!

Our next Chamber Meeting will be Wednesday, June 2nd at SkyLanes at 7:30am. Breakfast is $10/person and our scholarship recipients will be present to thank the Chamber.

Garrettsville Family Pharmacy has appointments available for the Johnson & Johnson COVID-19 vaccine. They are located at 8295 Windham St, Garrettsville, OH 44231. You can get more information and schedule an appointment by calling 330-527-4349. There is no charge to the customer.

Portage County Health District Vaccination Clinic – Walk-ins Available for Tuesday, May 4th The May 4th, 2021 clinic will be a Moderna Vaccine Clinic, serving individuals ages 18 and older. Walk-in appointments are available from 10:00am – 3:00pm on Tuesday, May 4, 2021 at the Kent State University Field House located at 2227 Summit Street, Kent.