HUGE EASTER EGG HUNT! Saturday, April 8th at 10:00am Over 5,000 Easter Eggs!!! Kids, friends & family are invited for food, crafts, easter photo booth and a 5,000 Easter Egg Hunt for kids of all ages! Saturday, April 8th at 10:00am at Life Church Garrettsville (Life Church is on Rt 88, across from the High School) This event is FREE, but we do need you to sign up by Wednesday April 5th!! Register at
https://mylifechurchag.org/register
https://facebook.com/lifecag?mibextid=qC1gEa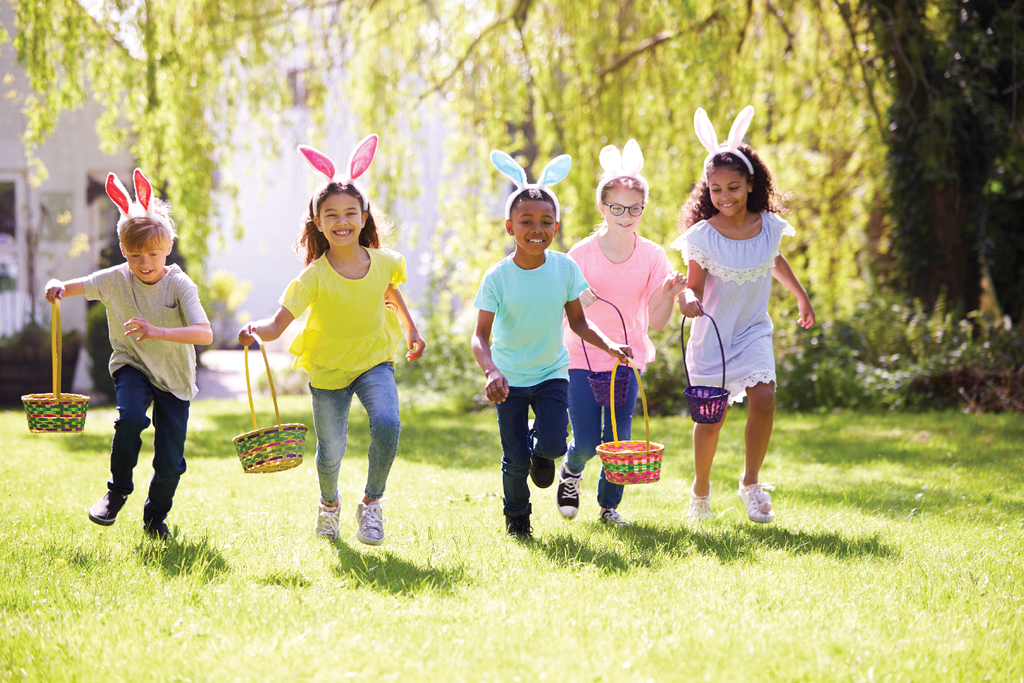 Get ready for some Shamrockin' Fun in Garrettsville this St. Patrick's Day!

Nelson Garrettsville Community Cupboard March distributions will be Monday, March 6th from 3:00 - 5:30 pm and Wednesday March 15th from 9:00 - 11:30 am. If you are interested in signing up for home delivery, please call 330-527-2011.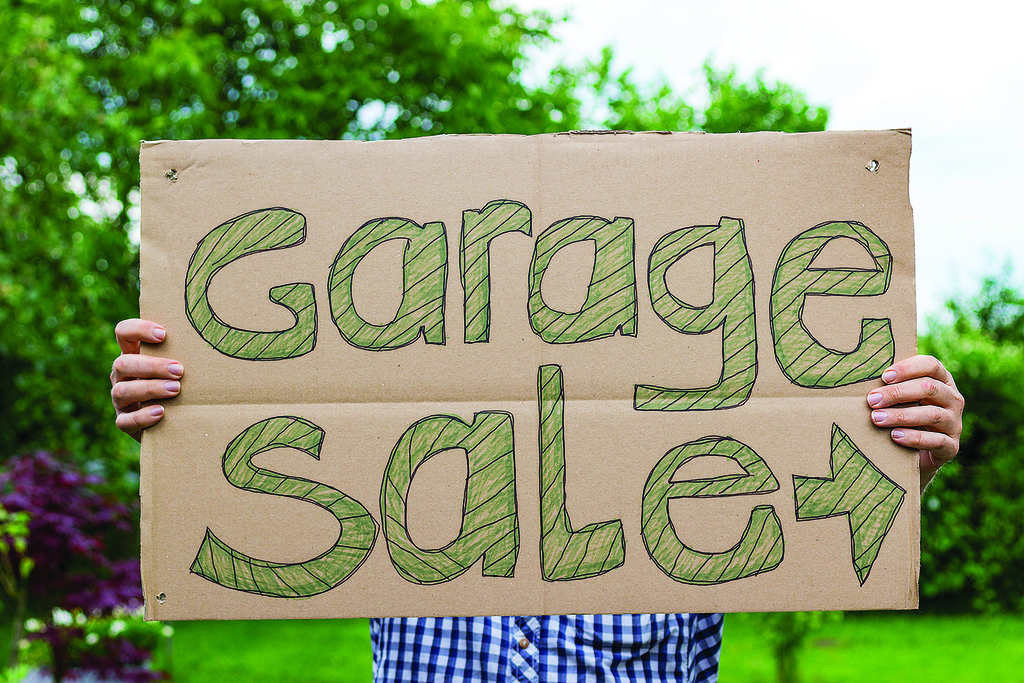 The next meeting of the Garrettsville's Area Chamber of Commerce will be held this Wednesday at 7:30 AM at the Garrettsville Family YMCA. Members and their guests are welcome. We hope to see you there!
Villager Business Solutions – home of The Weekly Villager, Villager Emporium and Route 14 Promotions is looking for a DEPENDABLE person to grow with us. Part-time weekday position (20-25 hours per week) flexible days (4 or 5 days/week). The position requires attention to detail, data entry, and excellent customer service skills. Embroidery/garment decorating experience a plus!!! Email
michelle@villagerbusiness.com
with resume/work experience. NO PHONE CALLS or WALK-INS PLEASE.

The Miss Terri Youth Library dedication ceremony will be held Saturday, February 11, 2023, at 1:00 PM at the Portage County District Library - Garrettsville Branch, 10482 South St., Garrettsville.
NGCC Distribution dates for January 2023 Monday January 9 3 - 5:30 pm Wednesday January 18 9 - 11:30 am If you currently receive home delivery you are on the list for January. To sign up call 330.527.2011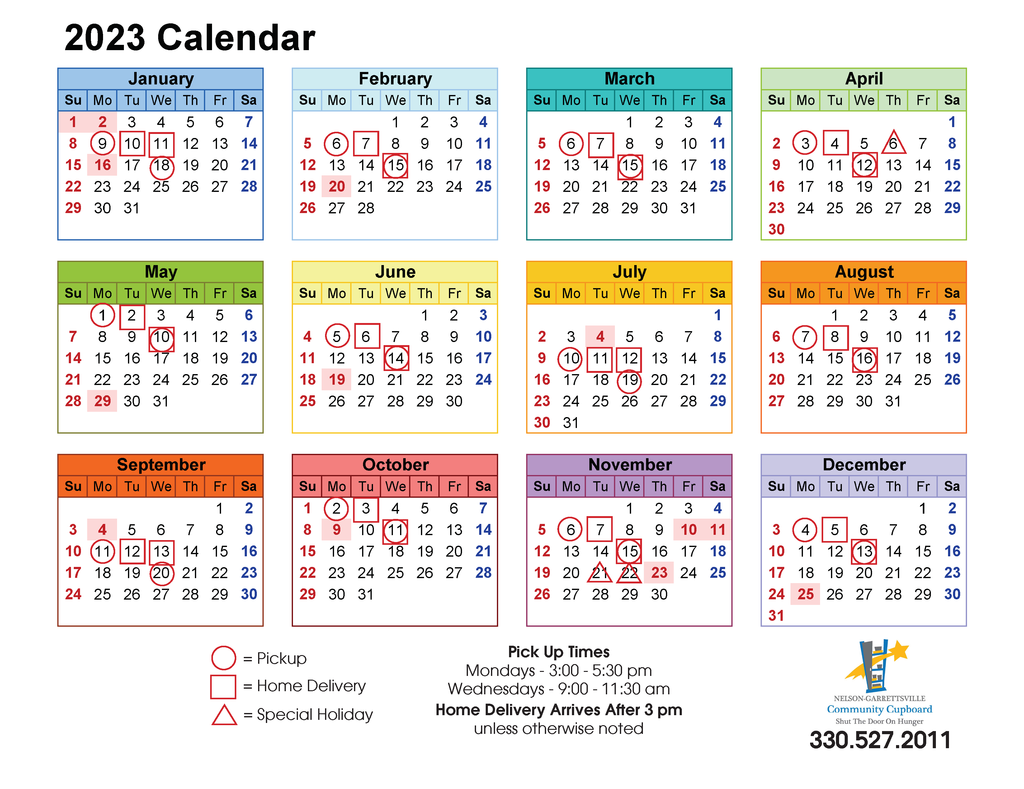 Happy Hanukkah to our friends, neighbors, and business owners who celebrate the holiday.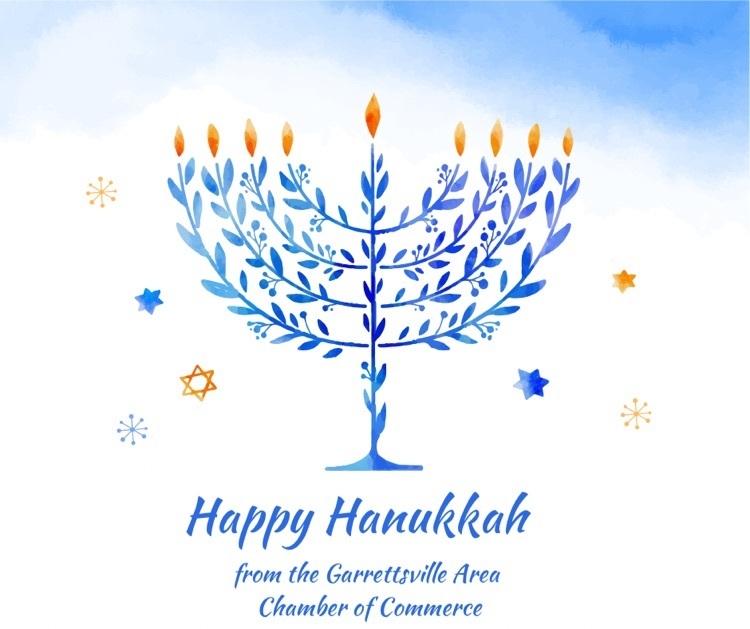 Who is your favorite local maple syrup producer in the #Garrettsville Area? Submit your fun facts to us and you may see it soon!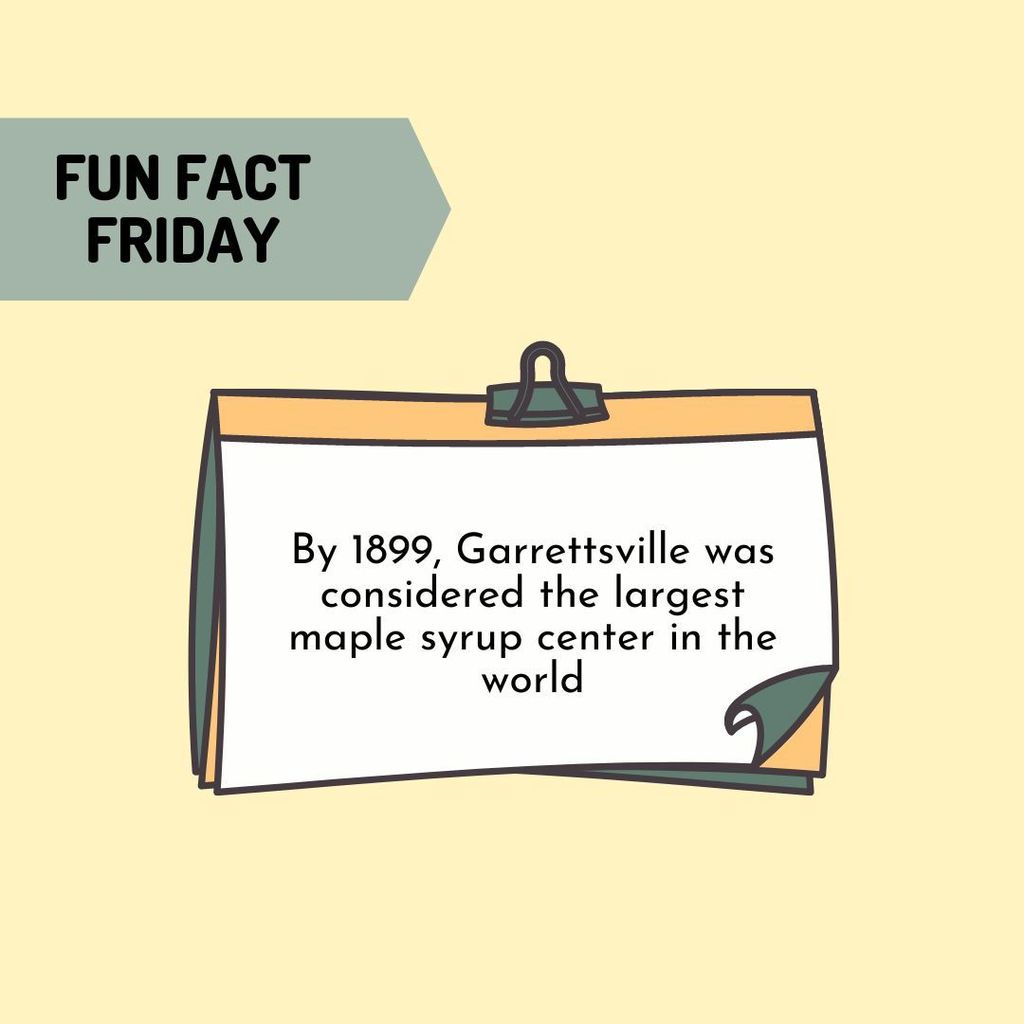 Check out some local upcoming events in the #garrettsville area. If you have an upcoming event, be sure to send it to us and we will try to share it!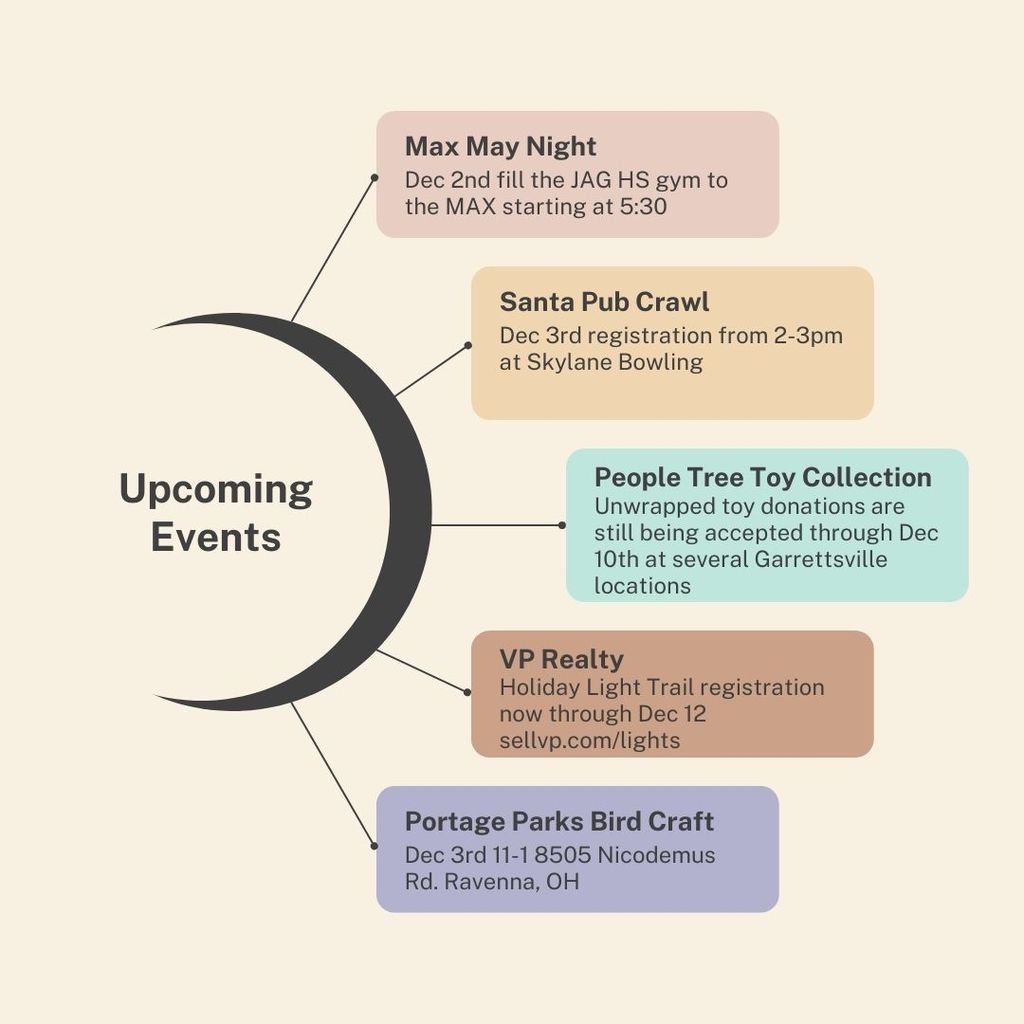 The Garrettsville Area Chamber of Commerce will be meeting on Wednesday, December 7th at 7:30 am at the Garrettsville Eagles Club. Please plan to attend. Guests welcome!!


NGCC December Distribution will be Monday, December 5th 3-5:30PM and Wednesday, December 14th 9-11:30AM. If you are not registered for home delivery but would like to be added to the delivery route, please call 330-527-2011.

Happy Small Business Saturday! Support the local shops and restaurants that support your community year round. Our members have a great day of entertainment for families lined up! 3pm - Kids movie @ GHS 5pm - Choir performance at clock tower 6pm - Santa arrives by fire truck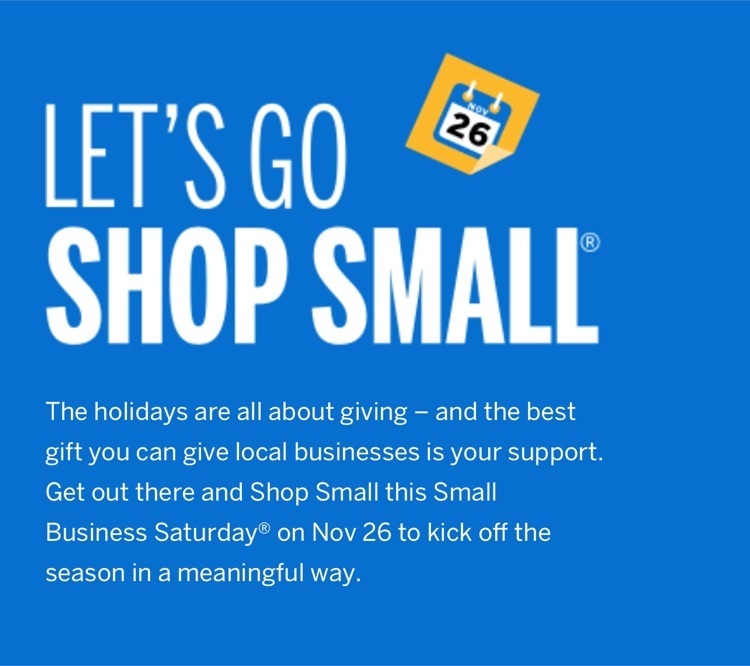 G-Men University will be showing "The Polar Express" on November 26 in the auditorium at 3pm. Immediately after, a magical ride to see Santa at the clock tower lighting downtown will be provided by a special conductor (bus driver)! Join us for this free fun holiday event!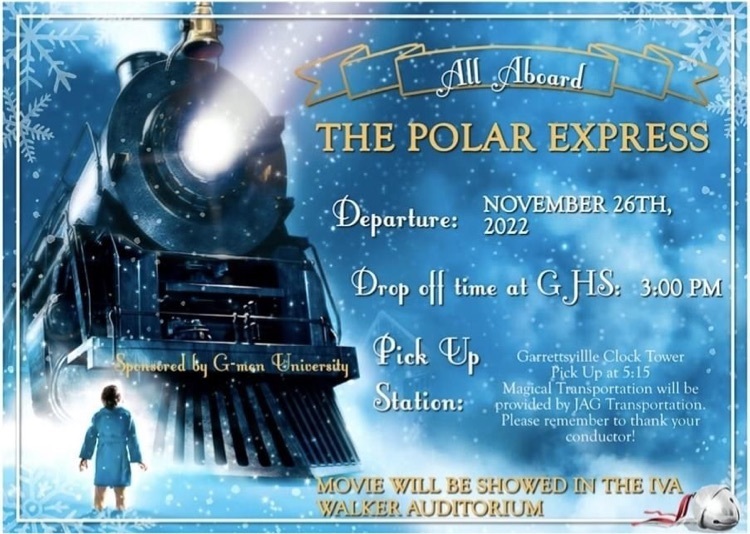 The Garrettsville Area Chamber of Commerce will meet on Wednesday, November 2, 7:30 am at Reynolds Bags on Industrial Drive. Guests welcome!


NGCC November Distribution will be Monday, November 7th 3-5:30PM and Wednesday, November 16th 9-11:30AM. If you are not registered for home delivery but would like to be added to the delivery route, please call 330-527-2011.

Garrettsville is hosting a city wide SCAVENGER HUNT you won't want to miss! If you are looking for something fun to do on Saturday, Nov 5th sign up for our 2nd Annual Harvest Hunt! This event is free and benefits the Nelson Garrettsville Community Cupboard. Bill Butto and family are the reigning champions and they challenge you to try and beat them! Life Church is the sponsor. You can learn more and register through their website as shown in the image below. Sign up your team and get ready! The Hunt is ON!!!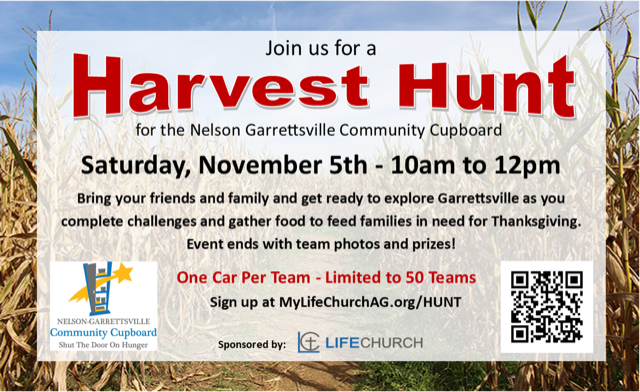 It's Playoff Time!! Order your JAG Football Playoff shirts today! Both hoodies and t-shirts are available. Visit
www.villagerprinting.com
and select the JAG Team Shop to place your order.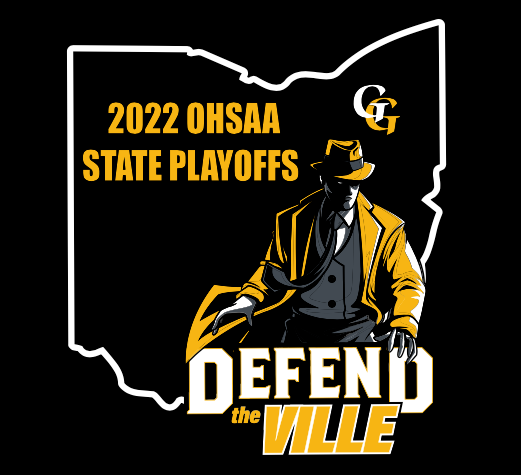 LAST CALL FOR TICKETS!!! Tuesday, Oct 18th is the final day to get tickets for the NGCC Murder Mystery Dinner being held on Saturday, Oct 22 at 4 pm. . Order on-line at ngccportage.org/tickets or stop in at the Villager Tuesday 10-3. No tickets will be sold at the door.