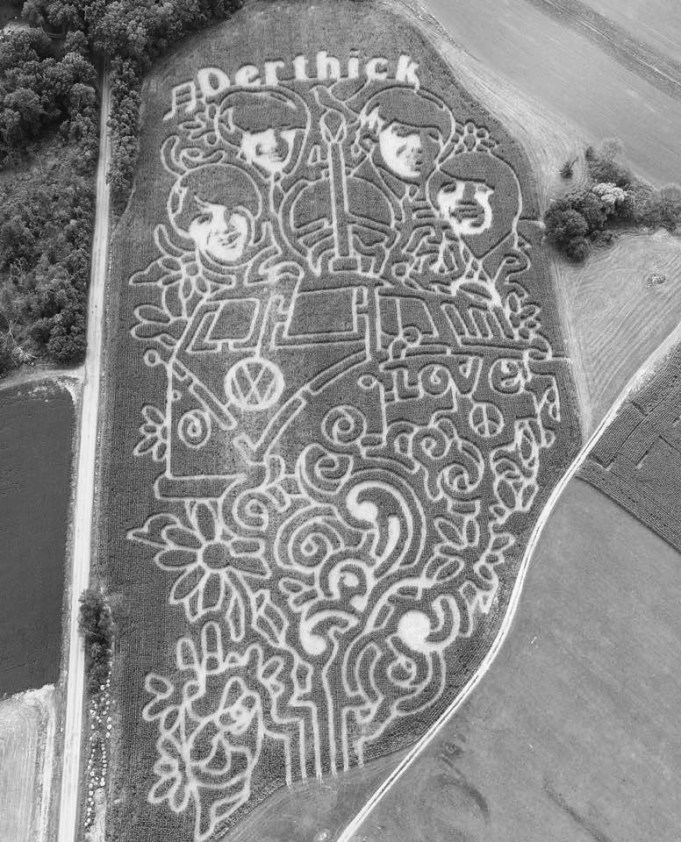 No School Means Corn Maze on Friday!
Stacy Turner
Tuesday, October 17, 2017
Mantua – If you're looking for a fun way to spend this Friday's NEOEA Day with your kids, why not celebrate the season by spending the afternoon at the Derthick's Corn Maze? Corn maze admission includes the 60s-themed maze, which features likenesses of the Beatles, a VW bus, and other groovy 60s-era icons, gives you and your family acres of fun. April shared, "This was our first time visiting the farm and corn maze, and we had a blast! My son is 4 and there were endless things for him to do. He loved the Corn Cannon."
Enter the large maze and follow clues on the treasure hunt, or enjoy the smaller maze with younger kids and solve Farmer Joe's clue game. Karen added, "It's a great place for family fun and lots of things for little ones — plus the maze is just so much fun."
You'll find farm animals, including pigs, goats, and horses, as well as loads of fun in the round bale play area. Katie shared, "This is the best fall farm I've been to! I've gone 3 years in a row and tell everyone about it. So many activities for the kids and fun for adults too! I will forever bring my family and friends here."
Amanda remarked, "We had so much fun today. All the staff was so nice. The older man giving pony rides was awesome. The kids also enjoyed the corn boxes, hay bales and sand mound. My 10-year-old loved the zip line too. The one thing my 3-year-old wanted to go on was the cow ride but we didn't have enough time," she added. "All in all, we made some great memories today!" Nora remarked, "The folks who run it continue to add new things to do and have worked hard to make it a place where people of all ages can have a safe, fun, yet educational, family time." Since school is out this Friday for NEOEA Day, why not sneak in some education? That day, Derthick's will open at 1 pm, with the last ticket sold at 9:30 pm. Natalie agreed, adding, "Amazing — we will definitely be returning next year! So much to do, great prices and just a nice place to make family memories."
Jamie Lyn shared, "First time I had been there with my family, and the maze was amazing. Food, games, and community…it was good old fashion family entertainment. I loved it and I will definitely be back next year!" For an additional charge, visit the pumpkin patch to select your own Great Pumpkin, or take a trip on the hillbilly zip line.
Derthick's corm maze is open now and every weekend in October. An adult must accompany children under the age of 14. Visit Derthickscornmaze.com or check them out on Facebook to learn more.