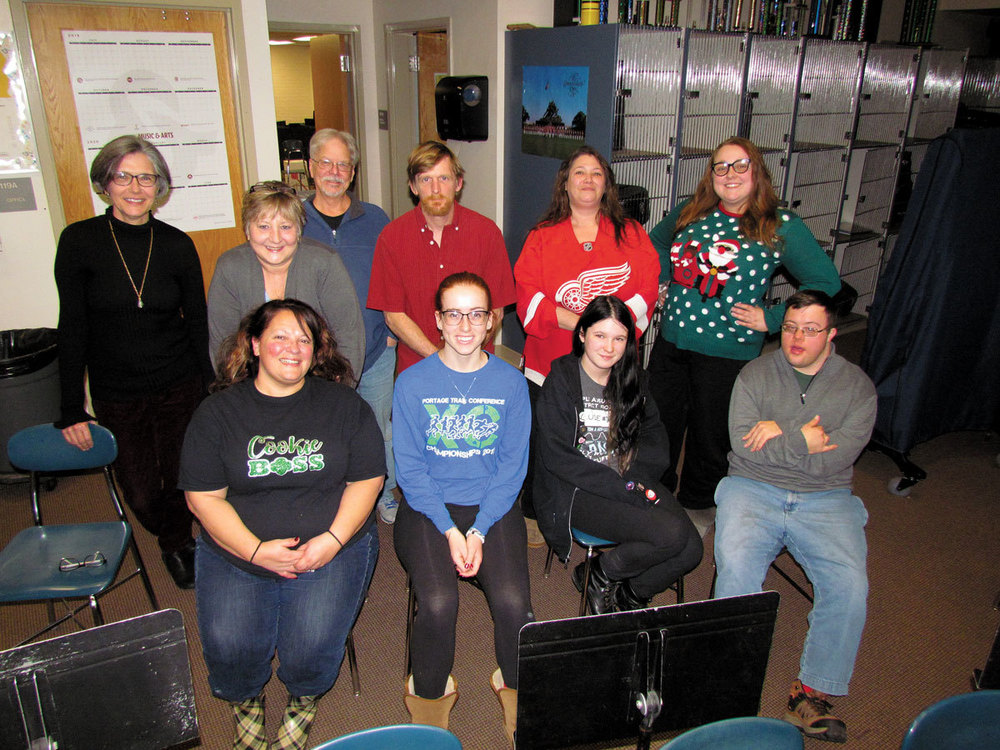 Curtains Up Theater Presents "Distance"
Stacy Turner, Weekly Villager
Tuesday, January 14, 2020
Garrettsville – Reading the cover of the play "Distance" by Jerre Dye immediately draws the reader into the drama. Alzheimer's is taking Irene Radford further and further away from the people in her ever-devolving world. It's a shifting world where the past becomes the present, the present becomes the past, and the future remains a terrifying mystery. Meanwhile, life must move on. Irene's daughter, Luvie, picks up the pieces of her failed marriage while dealing with the burden of her mother's illness. Irene's in-home health worker navigates the complex relationship with her adult daughter, while Irene's hairdresser must grapple with the pain of saying goodbye. As Irene drifts further into memory, the closer these relative strangers become inextricably connected to one another. According to the Chicago Theatre Review, "Dye's latest play is heartbreaking, yet it's also filled with unexpected humor and tenderness."
In her fifth role at the Curtains Up Theater, Shannon Mallory plays the lead role of Irene. She notes that most people have encountered the difficult subject of Alzheimer's through a family or friend, and noted that viewers of this latest performance will find something that's relatable to their lives. After participating in theater throughout high school and college, Mallory shared that the Curtains Up Theater is, "very refreshing, warm, and all-inclusive." She urged people to come out to support their friends and neighbors at Curtain's Up, adding "I've made lots of good friendships and met people I wouldn't have met otherwise." Her daughter is also involved in the theater, serving as an extra in productions since the age of 11. The proud mom noted that her teen daughter and friends have had the opportunity to work as stage hands, helping with sound, props, and in the light booth, getting opportunities they wouldn't normally get in school.
Madeline Cuckow, an eighth-grade science teacher at Warren City Schools, plays Irene's daughter. A new resident of Garrettsville, Cuckow, who has been involved in theater since middle school, joined the Curtains Up cast in order to get to know people in her new hometown. While she's played more light-hearted, comedic roles in the past, she noted that this play is very different. She's looking forward to challenging herself to stretch as an actor. This is her second performance at Curtains Up Theater.
In his first theater production ever, Eric DeRue has joined the cast. A life-long fan of theater productions, this 28-year-old has wanted to be in theater since he was 5. DeRue works during the week at Portage Industries, but "has been to a lot of plays, and pretends to direct and cast all the time," shared his mom, Betsy Heisler. When they noticed the placemats (advertising Curtains Up) at Miller's Restaurant, they decided to get involved.
"I figured we could do something to help," Heisler shared, "like taking tickets or helping backstage." She was shocked when director Jackie Rinearson asked them to be part of the ensemble. The pair doesn't have any lines, but will take part in the scene in the train station, so be sure to look for it.
DeRue is looking forward to the performance, especially since he likes trains. He's got over 20 friends and family members who plan to see his first theater performance later this month. Heisler noted that her son is "super excited about getting his picture in the program." Watching a recent rehearsal, Heiser explained, "It's fun to watch it take shape over time. It's a tough story that will comfort people who are going through it. It's hard, but when people pull together and work together, it's a good thing."
You can experience "Distance" for yourself at the Curtains Up Theater Fridays and Saturdays later this month. Performances will be held on January 17th, 18th, 24th and 25th at 7 pm and on Sunday, January 19th at 2 pm at the Iva Walker Auditorium at J.A. Garfield High School. Due to the serious subject matter, the performance is not recommended for children under 12. The performance is made possible by the support of Ryser Insurance and Ohio Health Benefits. Tickets are available at the door and are $10 for adults and $8 for seniors 65 and up. Tickets for groups of 15 or more are $5 each. Visit www.curtainsuptheatre.com for more information.